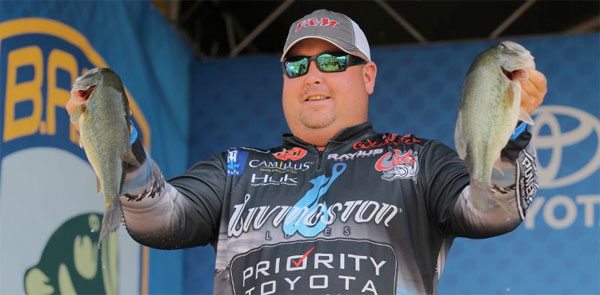 Jacob "J-Pow" Powroznik had a 4th at the Cayuga Elite, just a mere 3 oz behind Brett Hite. Here's how he caught 'em.
> "We were going to NY in June, during a full moon, and in the middle of the lake the water temp was 58 degrees. So in my opinion it was a no-brainer: Just about every fish would be up shallow trying to spawn. And within the first 10 minutes of practice I saw 8-10 fish on beds.
> "So that's what I did throughout the tournament. I fished for bass on beds, and I skipped docks real shallow. The first 2 days, sight-fishing was the only way I caught one.
> "The third morning I caught a big one on a Livingston Walking Boss, and four other big ones blew up on it and didn't get it. I got on it just a little too late. I was hoping the last morning that topwater would lead to a big bag, but the water got blowing so hard it blew all that cold water into the north end of the lake and it shut the fish down.
> "I caught them the last day pitching holes [in the north end]. It looked like 55-gallon drums sitting out there in the grass. If it hand't been so windy I would've been sight-fishing the whole time. I found a 6-lber in 7′ at the end of the third day — day 4 I started there but I just couldn't see it.
> "Most of the fish I caught dropshotting a hand-poured worm (motor oil brown) or V&M Trickster Worm (gp), rigged on a 3/8-oz Elite tungsten sinker and 2/0 Trokar Drop Shot Hook [8-9″ leader].
> [The motor oil color:] "The last time we went up there, a buddy of mine gave me a bag of those worms. He said, 'I don't know what is about this color, but they just like it there.' He's right. He's just a buddy of mine and makes them for himself — he doesn't sell them.
> "I was throwing that on a 7′ 4" Quantum spinning rod with a Quantum 25 Smoke reel, 10-lb Hi-Seas braid with 10-lb fluorocarbon leader.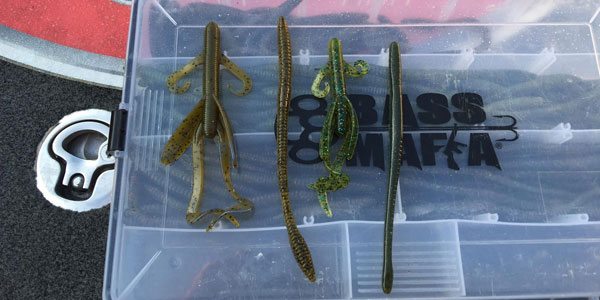 > "I also fished a Texas-rigged V&M Baby Swamp Hog (watermelon candy) and Swamp Hog (gp blue haze) — sight-fishing down in those holes when they wouldn't bite the dropshot. I used a 5/0 Trokar Flippin Hook and a 1/2-oz Elite sinker for the bigger Hog, and a 3/0 Trokar Flippin hook and 3/8-oz weight for the Baby.
> "I used a 7′ 6" Quantum Smoke pitching rod, the new Quantum Smoke HD reel and 20-lb Hi-Seas fluorocarbon.
> "The fish down there 6-7′ and it wasn't easy. Some you had to work for 30 or 45 minutes. They'd be snotty for a while, then all of a sudden you'd see an attitude change.
> "Most of the time I'd be right over top of them, where I could see them. That's why those 10′ Power-Poles were so key. You could lock down and wouldn't move.
> "My Costa sunglasses were also real important. [He wore Rafaels, sunrise yellow lenses in the morning and amber with silver mirror after that.]
> "For the Walking Boss (beauty shad) I used 50-lb Hi-Seas braid, the new Quantum HD reel (7.3) and a prototype Quantum rod that's unbelievable — it's a 7′ 4″ extra fast."