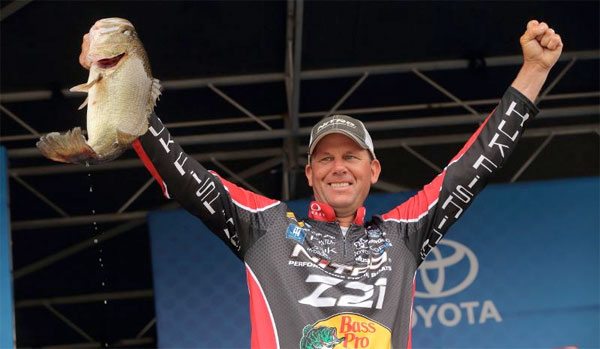 Kevin VanDam won his 21st Bassmaster event [!!] mostly by doing what he loves to do: crank. The deets:
Where
> "I fished from Cypress Bend where we launched, down to the lower end of the lake — basically all around the lower lake. I was below the Pendleton Bridge the whole time."
> The fish "were all structure spots outside large spawning areas. Some [spots] were on the main lake, some were in creeks…ledges, points and humps outside spawning areas that were closest to the main lake from the bank. It seemed like the fish were holding on the longest points.
> "The offshore stuff was all 18-30′.
> "I started in the morning on the shad spawn. I did that for an hour every day. Some days it was good, some it wasn't. They were on bank grass, cypress trees, docks — it seemed like shad were spawning everywhere, but the best places were on points close to the main lake."
Baits
> "I weighed the majority of my fish on a Strike King 10XD in sexy blue back herring. I also threw the 8XD, and the 6XD in rattle and silent. I switched between bar fish and sexy blue back herring, and changed out the hooks to Mustad KVD trebles.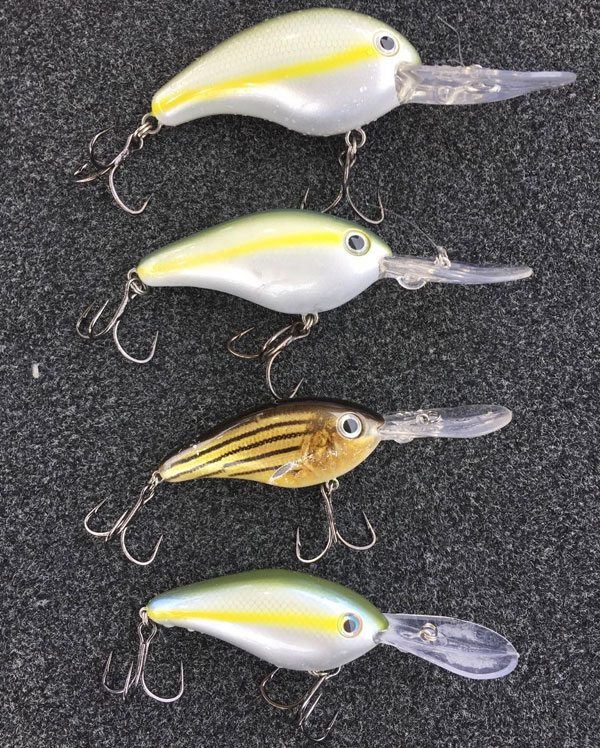 > "For the 8XD and 10XD, I used a 7′ 11" heavy-action Quantum Tour KVD Crankin Rod, a Quantum EXO 200 reel [5.3] – it has a bigger spool so I could cast it farther – and 14- and 17-lb Bass Pro Shops XPS Fluorocarbon.
> "For the 6XD, I used a 7′ 10" medium-heavy Tour KVD Crankin Rod, a Quantum Tour KVD 150 reel [5.3] and 12-lb XPS Fluorocarbon. In most places I was throwing that at 18-20′ so I used the 12-lb to get it down.
> "For the shad spawn, I fished the Strike King KVD Sexy Dawg and the large-size KVD Splash, both in blue gizzard shad. I also threw a 1/2-oz KVD spinnerbait in blue glimmer shad." [It was a Bass Pro-exclusive KVD Scorcher spinnerbait, similar to the Burner but the head is a little different.]
> "Without a doubt, the reason I was able to win was the detail of the Humminbird Lakemaster mapping. The detail of that map is absolutely stunning. All I did when I was practicing was look at every point and corner, graphed it to find the fish, then I just had to line up and make the casts.
> "This [win] was kind of a surprise. The 3-day practice was really windy, so nobody got to practice much offshore. I didn't get a lot of bites and didn't find any schools. I didn't really know what to expect, but definitely wanted to start on the shad spawn deal every morning. That turned out to be a good approach because the first morning I caught a limit really fast – I had 25 lbs pretty quick which allowed me to practice the rest of the day [offshore]."