Just like Potomac Elite winner Justin Lucas, Jason Christie finished 2nd by fishing one bait in one spot.
Practice
> "The first day of practice the tide was low so the plan was to run around and look at a lot of grass at low tide so I could maybe see some hidden stuff. The very first place I stopped, I put the trolling motor down, looked around and fish were chasing in this mat. I threw in there and got a couple bites in 5-6 casts.
> "The more I looked around, the worse the fishing got. I caught a few fish in practice but never caught two in the same area and didn't catch many doing the same thing.
> "Practice was so bad for me, so I started in the place where I had more than 1 bite. It ended up being a lot better going to be."
Tourney
> "[His spot was a] giant milfoil and hydrilla mat — it had some coontail in it too. It was like 1/3 of a mile long — a big, giant mat that had some ditches in it which gave those fish some security at low tide. And it was at the mouth of a creek. It had the right ingredients for sure.
> "You could get a bite or two anytime, but it was good whenever the tide was out. Once the tide would come back in — and that time changed every day — I would try other things. I just never found anything else."
What he used
His only bait was a BOOYAH Pad Crasher in the sunburn (brown) color: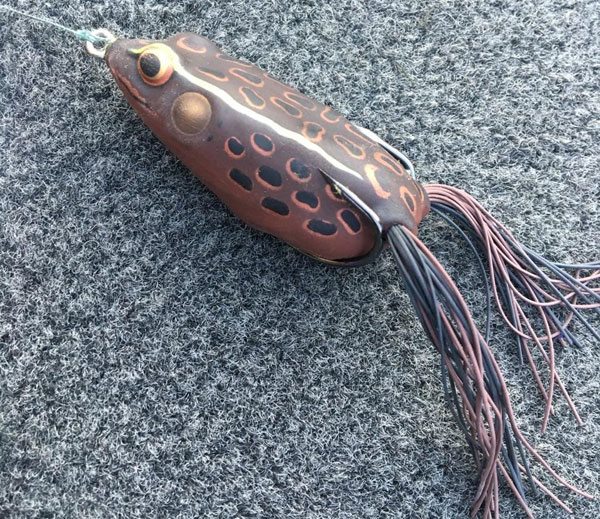 > "It's the most natural and versatile color we have. In dirty water they can see it because it's a darker color, and you can fish it in clear water because it's the same color as a perch [bluegill]. It matches perch and there was a lot of perch in the area I was fishing.
> "The first day they wanted it really, really slow. I'm not sure why. Every day after that it seemed like it just got faster and faster. The last day they wanted it super-fast. I was working it so fast it was getting really close to just a steady retrieve, and they would have it in their throat….
> "If I brought it over a hole the size of a basketball, I'd stop it just to give [a fish] time to move [to it]. A lot of the bigger ones I caught the last day were in holes about the size of the hood of your truck — I wanted to come through those holes fast to get them to react. The water was really clear. The bigger the hole was, the faster I'd bring the frog through it."
Day 4 sack
Day 4 he sacked the biggest limit of the tourney, 23-01. Here's what he said about it:
> "I had about 20 bites the last day. That exceeded the amount I'd had the 3 previous days combined — I had 17 bites the first 3 days.
> "I went in there a little later. I decided to change it up. I went and caught 14 or 15 lbs on hard cover, something I hadn't done all week. When you start in your best area with 14 or 15 already, you just fish loose, you take your time, you're patient. I went to a different area on that same mat I hadn't fished all week."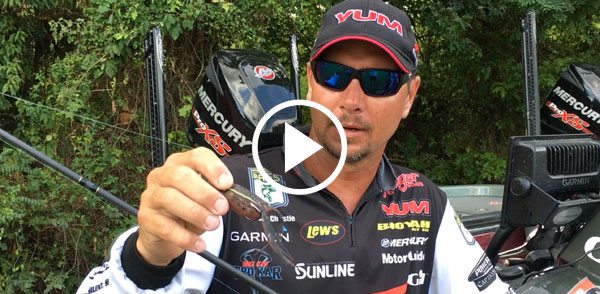 More
> "I did modify the bait a little. I rounded the legs off, and put a 4/0 Trokar frog hook in it. I've used that frog for years with the stock hooks in it, and it's fine. I just changed the hooks because I kind of injured myself at Toledo Bend — I hurt my elbow a little bit. That Trokar hook is super, super sharp — you really don't even have to set the hook with it. So it really was just the injury to [get the fish hooked] without doing much.
> "Those fish all bit on very, very long casts, and to get them out of those mats on a frog on long casts — that's another reason for those hooks. I had some biting out there 50 yards.
> "I didn't lose any that would've helped me in the tournament.
> "I'm okay, not 100%, I just need some rest."
> He fished the Pad Crasher on a 6′ 11″ Falcon Cara Jason Christie Frog Rod, a Team Lew's Lite reel (7.5) and 50-lb Sunline FX-2 braid.
> "The bottom 2/3 of the rod is stiff with a lot of backbone, but the tip is soft. Using braid, that tip absorbs a little bit of the shock when you set the hook, and that tip gives more accuracy whenever you're skipping docks or casting beneath overhanging trees. It's also really lightweight because usually when I'm throwing a frog, I'm throwing it all day."