Dean "the fishin' machine" Rojas is a known hammer during the spawn. At one point his bed-fishing baits were kept so under wraps that the CIA was running drones over his house! Okay, not really (you never know though) but has anyone ever looked into how Dean fishes the pre-spawn?
Yep. Here's what he does and uses.
His approach
"Most of the stuff I do is pretty simple," he says. "I don't get too extravagant. Obviously water temperature is a big thing, then bait selection from there, then current conditions – if the water's low or high.
"I like to start with a reaction bait, like an Aruku Shad (Spro's lipless crank), a spinnerbait or a Chatterbait. If they're not willing to chase that, then I drop back to pitching and flipping, or a small Carolina rig. Maybe I'll throw in a dropshot or shakey head – the whole key is whether they're active or not.
"In the prespawn you can have good weather that's stable, or bad conditions. You have to break it down. Will they chase something, or do I have to go get them."
Either way, Dean fishes his search baits in classic prespawn locations like secondary points (sometimes main lake points) going into a pocket or a bay that has grass or lily pad stems – out in front of "the stuff they'll eventually spawn in.
If they're not chasing, he moves in tighter to pitch and flip, or maybe slow-roll a spinnerbait – assuming the water and conditions are conducive to that. We're talking flooded bushes and other wood.
Prespawn fast-moving baits
> Spro Aruku Shad – "Red is always a great color, and crawdad patterns, but if shad are in the area, for me chrome/blue back is a standard color I use a lot." He likes to work it over grass, and also on the bottom. "I like popping it on the bottom – ripping it off, and letting it flutter it down. I follow it down, then bring it back up again. Sometimes it requires two pops – just see what they like."
> Spinnerbait – "It depends on the water clarity, but an all-around bait I use is a 1/2-oz bait with a silver willow and small gold Colorado, and usually a chartreuse/white or a shad pattern skirt." Dean emphasizes that colors depend on water clarity. He also likes to keep the bait close to the bottom or cover.
> Chatterbait – He likes the original Chatterbait, though also has a few homemade models he's acquired over the years. He sticks with black/blue and green pumpkin (choice depends on water clarity), though if shad are around he'll use chartreuse/white. Trailer is a color-matched Big Bite Cane Thumper.
> Dean uses a 7′ medium-heavy Duckett Terex rod, Duckett 360R baitcasters in 6.3 and 7.0 (Chatterbait) and 17-lb Sunline Sniper fluorocarbon.
Prespawn slow baits
"If the lake is high and the water temp is right, the fish will be in those bushes," Dean notes. "I'll run a spinnerbait or bladed bait through there first to try to find them, and if I find them I'll start pitching and flipping the bushes."
His flipping bait is a Big Bite Fighting Frog, a Beaver-style bait he designed. "That's all I throw. I use that bait for pitching and flipping around wood and dock posts, mats, grass in Florida, everything."
He Texas-rigs a 4″ Fighting Frog ("in my all-time favorite color, tilapia") with a 5/16-oz tungsten bullet weight and 4/0 Gamakatsu Superline EWG hook. He uses a 7′ Duckett Terex heavy-action rod, a Duckett 360R reel (6.3) and 20-lb Sunline Sniper fluorocarbon.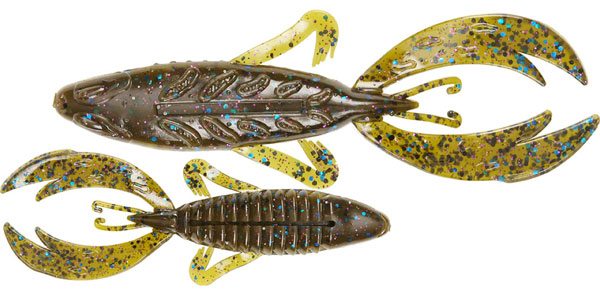 The light Carolina rig
If the bite is tough as nails, he'll pull out what he calls a "small" Carolina rig. "I use 5/16-oz weight and put one of those Carolina Keepers on there with an 18- to 20-inch leader. I'll throw a small Fighting Frog, finesse worm or Big Bite Creature bait on there."
The hook is a 3/0 regular Gamakatsu EWG hook, and he fishes it on 12-lb Sniper. He uses a 7′ heavy-action Duckett rod and a 6.3 Duckett reel.
"It's a great slow presentation if they're laying on the bottom and they're not real active. Make precise casts across a secondary point or in a ditch. If they're down there and don't want to chase anything, they'll bite that.
"That's my last resort. If I don't get a bite on that, I leave the area."