And How to Get Your Pic Taken Right
We've been crunching a boatload of data for FishingGold, which is why we've been running across a bunch of interesting and funny derby stuff – the latest example being right here: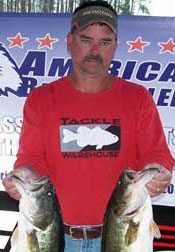 That's Al Fortner, winner of the ABA Lake Greenwood, SC tourney on Feb. 27 of this year. I'm sure Al was tired from a day o' fishin' and doesn't have as much practice holding up fish for cameras as, say, the Hack Attack. But look lively man!
Plus those look like some nice basses and we'd like to see 'em.
Don't mean to single out Al (sorry Al, no offense meant). I'm sure he's a good man, and that's just one example: There are MANY such shots on tourney websites, as you probably know.
Tips
The next time you win or do well in a tourney, remember that the pic taken of you may live on in infamy on this here internet. So for you to look like the bass killa you are, here are some tips:
> Hold the fish up about shoulder height, and out a little – not too much.
> Don't hold it so high that you block your face with the fish (the photog should help you with this – ask him/her to), and if you have sponsors don't block the logos.
> Either look at the crowd (maybe make one up if it's just crickets and frogs watching), the camera or the fish – probably in that order. Re: looking at fish, I used to take a lot of pics for Bassmaster Mag, and a ton of them (not just mine) were guys smiling at the fish. Prob'ly still being done – they look good.
> Above all else, smile already! You're happy, right?
Good luck. If you take a good one, send it to us and we'll make you famous.