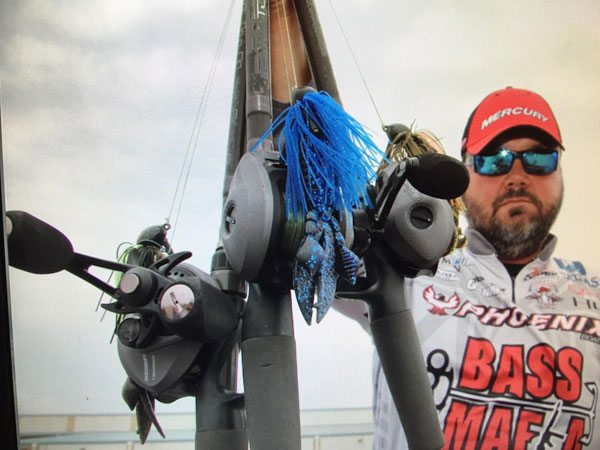 Denny Brauer and Tommy Biffle are the known black-belt Jedi-masters of the flip. I say Greg Hackney should be right up there. Here's a look his braid-flipping system.
First of all he uses a 7′ 11′" Quantum Hack Attack flip stick.
> "That rod [now discontinued] was built for braid. It's not the rod for flipping fluorocarbon – it's not fast enough. It has a very parabolic bend. It's limber on the tip, and has a lot of the same action from the tip to the butt. The whole rod loads.
> "With line that has no stretch, you want that parabolic bend. Or [on the hookset] you'll tear the hook out of the fish's mouth, pull the hook out, or move the fish too much.
> "If you're fishing braid with a stiff rod and you move the fish too much on the hookset, you get slack. And that's typically when one comes off. If you blow one out, you have to make 2-3 cranks on slack line – and if you're going to lose one, that's when it happens. I want to keep the fish on the bend of the rod the whole time. That way you get no slack.
> "[With braid] only place for forgiveness is in the rod."
Next is a Quantum 200 HD reel (7.3).
> "Everything happens so fast. Everything happens up close and so fast, even with a big one. That's a reason I like that reel. The HD reel has giant handles on it – they're powerful, and I need that. I like those big handles to crank on to get the fish in as fast as possible.
> "For me not to swing one it has to be a 7-plus. It happens so fast, you need to get them in the boat as quickly as possible. The less time in the water, the less chance they have of coming off."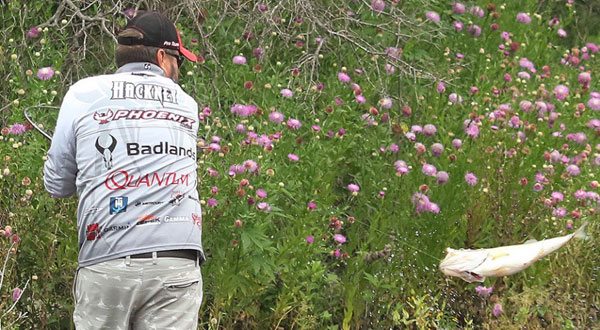 Then there's 50-lb Gamma Torque braid.
> "Braid makes me a lot more efficient. I don't have to retie as much, and if I would have  bigger, stiffer rod, I wouldn't be as efficient.
> "Regardless of water clarity, if I'm catching fish out of cover, in my mind it would be hard for me to imagine that a fish could distinguish between the line and the cover.
> "Braid carries no light – it's real natural-looking in the water. Fluorocarbon and mono aren't natural-looking at all [in the water]. They look like something from Mars.
> "Most of those limbs on those bushes [at Texoma, where he won] are white or faded, [so he let his braid color fade]. If I'm fishing green grass, I like it to be green. But typically I don't paint it black because I believe that's one of the easiest colors for fish to see.
> "I've caught them when you could see the bottom in 18′ in cover with braid.
> "For me the whole deal [about line type and size] is whatever makes the bait act natural. I'm not worried about them seeing the line. As long as I can make the bait act natural, I believe I can get by.
> "I don't have anything against any [line types]. They're all a tool, and each scenario needs a different tool."
More
> Of course he uses his signature Strike King Hack Attack Jig and Hack Attack Heavy Cover Swim Jig, along with various Strike King plastics.