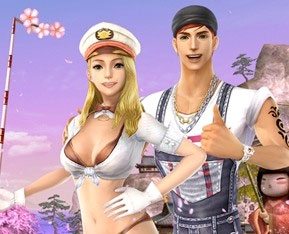 Just in case you can't get your fill of fish that aren't real, a couple of vid-game developers just announced an online game in the works called Grand Mer. From examiner.com:
Grand Mer is a free-to-play online fishing game, set in 2018 after global warming has caused massive flooding and climate change on Earth. As the human race struggles against starvation, players will seek to fish up the solution to their hunger.
The world of seas will feature dynamically changing shoals of fish, weather tracking, accessible fishing controls and the ability to use fishing rod controllers (including an iPhone app), over 120 species of fish, real-time rankings, several game modes, custom gear and boats.
Sounds pretty hardcore…which definitely does not match up with the pic above and the vid below (how 'bout that music!). Is this really about fishing or…being a 20s-something virtual Bahamian playboy?
Is that why people play online games, to feel studly or sexy or whatever? Weird.
And we conclude with this pretty funny comment left on YouTube:
Things I'd like to see in the final [game] build:
> Fat guys
> The ability to catch and eat dolphins
> Underground mole people
> Some random "pro fisherman" endorsement. The crazier his name is the better.
Hah!