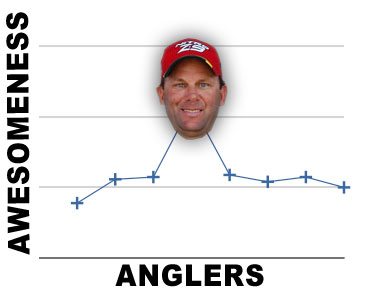 It's been asked lots of times before. Who has the more competitive field? BASS or FLW? Invariably, the response I hear to that question from the average ESPN-watching, club-tourney fishing, bass-fishing-website-perusing angler dude is: "C'mon, that ain't no contest. BASS has KVD, man."
Okay, I get it. KVD is a bad@$$. He rules. He built the pyramids. He knows every number of pi. And if you give a horse a handful of water from KVD's livewell it'll turn into a unicorn and shoot cancer-curing rainbows out of it's rump.
But you know what, average bass fan dude? That answer's not good enough for me. You see, KVD is what them there smart fellers at the fancy universities call an "outlier."
An outlying observation, or outlier, is one that appears to deviate markedly from other members of the sample in which it occurs.
Do you know what statisticians do with outliers like Mr. VanDam? They throw them out so they don't muck up what is otherwise a pretty evenly distributed and well-rounded data set. So say goodbye to the kid from Kalamazoo. He doesn't exist. So I ask again: Is BASS still head and shoulders above FLW? I know, most of you will still say yes. "What about Skeet, and Ike, and Martens and…"
I say phooey to that. I counter your Skeet with my Ehrler. And I've got Dudley, Yelas, Thrift and Fukae still waiting in my back pocket. Go ahead. Pull out your Ike, and Martens and Hackney. I think we can go toe-to-toe for a while. A lot of you are probably rolling your eyes right now. "Gimme' a break," you say. "Yelas? Dudley? Those guys are lame." I didn't ask you if these guys were "cool," or if you could recognize their faces or knew what kind of boat wrap they had—I asked about how well you thought they could catch bass. As someone who's been fortunate enough to cover both tours and attend events on both sides of the tracks, I'm here to tell you, those FLW guys are darn good at catching 'em, too.
Am I saying FLW is the superior league? Hells-to-the-no. I'm just saying that I don't think the boys of BASS blow away Wal-Mart's wonder kids the way a lot of fans seem to think they do.
There's a mixed bag of stellar sticks from both leagues duking it out right now just north of Houston, Texas. Anybody want to come out and say which league will have the higher average finish? If you use the BassFan world rankings as a baseline, the BASS guys should win that war handily, as the field is top-heavy with pros from the made-for-TV tour. But I don't think that's how it's going to play out. I guess we'll know in a few days.
I know you've got an opinion on this, and I want to hear it in the comments section. But remember, the outlier known as KVD has been thrown out of the equation, so you can't use him in your retort.
The Outlier… come to think of it, that's a pretty sweet nickname for a bass fisherman. Hey Zona, feel free to use that.