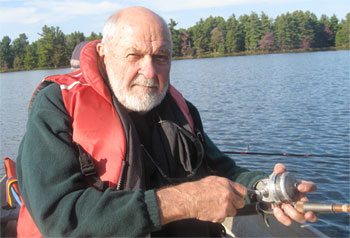 Paul Elias started fishing BASS in 1979. For those of us who were alive back then, that's when:
> The Bee Gees, Rod Stewart, Donna Summer, John Denver, Olivia Newton-John and ABBA were hot.
> Kramer vs. Kramer, The Jerk, Alien and 10 came out.
> M*A*S*H, Alice, Dallas, Flo and The Jeffersons were on TV.
> Three Mile Island happened, Chrysler got its first bailout ("just" $1 bil), the US hostages were taken in Iran, the Soviets invaded Afghanistan and Ronald Reagan still hadn't gotten the presidential nomination.
> The Steelers beat the Cowboys in the Super Bowl – Terry Bradshaw vs. Roger Staubach.
The point: That's a long time (ago)!
"One of the neat things about this sport is that age [he is 59] has absolutely nothing to do with your ability – you can have longevity," said Elias, a Laurel [MS] native, in a recent news article. "I started on the BASS tour in 1979 – wow, that's 32 years.
"I've spent a lot of time getting in what I feel is the best fishing condition I have been in in my life. I…got on a regimen that got my weight down 12 to 14 pounds. I've been through all the aches and pains that come with age, like fishing elbow, but I feel great. I have no problems practicing 12 to 14 hours."
"I like my mental state, and that's so important. I worked hard on some of my mechanics – problems causing me to just lose a lot of fish. Key fish. That's what happened to me in 2009, the worst year I ever had tournament fishing.
"I was just losing fish, and at this level, landing one or two fish a tournament is a big difference in points and a big difference in money."
"I got myself in a position where I'd worry about losing fish, and you know what happens then," he said. "I'd think about it and I'd lose a fish.
"But last year I had a better feeling. I'm not saying I didn't have a few hiccups, because I did. But I was competing again."
Classic Weight Prediction
"The big difference down there this year compared to the previous three Classics in New Orleans, is that this is the first one not in the middle of the summer. It's a lot better time to catch big fish.
"I think we'll see a few 20-pound bags (5 fish, 4-pound average) during the event. I don't know if anyone can put together four days of 20s, but I definitely think there will be some 20s at the scales."
More
> He won the 1982 Classic on the Alabama River ("kneelin' and reelin'").
> In his previous 14 Classic appearances, he's been in the Top 10 in eight of them, including 9th in New Orleans in 2001, and in the Top 5 in four.