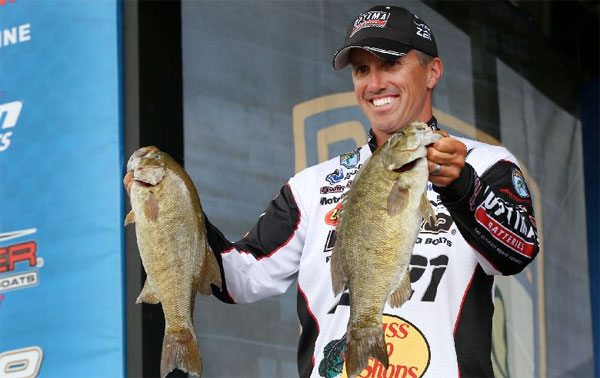 Called Edwin the morning after he won, asked him a few Qs, here's what I got:
Me: Fishing smallies shallow — did you ever doubt that strategy?
EE: I doubted it in practice, but about 10:00 or 11:00 the first day of the tournament I thought, This is gonna work. Cause I had 'em. I figured out they'd bite.
Why shallow?
Always, since Erie [his win there in 2007], I'd try to get on top of them with my Lowrance and a dropshot. Any time we were at a smallie venue of any type, I fell back on the success of Erie. But [since then] I haven't done any good.
Plus I didn't get any bites deep, and saw a few fish up shallow.
Were were they exactly?
Just clean sandy areas with grass patches, in about 2-8 feet. They were up on flats.
What did you mean when you said you had to work on them to get them to bite?
I felt that the fish were territorial — like they had a little homestead where they were going to eat. So I'd try to get them to bite with a couple different baits.
They didn't get spooked up that shallow?
I had to get back off of them to where I could barely see them. They were not the typical easy to catch northern smallmouth.
Did you fish your baits in any particular order? Like if they didn't bite this, then you'd switch to that?
If the fish were up high in the water column or if there was less current, I'd get the flip stick. If there was a lot of current or if they were on the bottom, I'd use a dropshot or a Zoom Speed Craw on a shakey head [3/8-oz].
What were your main baits?
> A Zoom Fluke Stick Jr [green pumpkin] rigged wacky-style.
> Dropshot with a Texas-rigged Zoom Z Drop worm [green pumpkin].
> Megabass X-80 jerkbait [elegy bone].
> Megabass Spark Shad [ayu] on a 3/8-oz leadhead.
I caught some on a spinnerbait too, when it was cloudy and in a downpour — a 3/4-oz War Eagle spinnerbait [white/double willows]. I also used some other stuff. I caught some on a Super Fluke [white], some on a little hair jig.
Sounds like sight-fishing fish that are not relating to beds. Have you ever done that before in a tournament?
Well…yeah I did that at Havasu. I could see them there too.
Were you on the trolling motor?
I tried to drift with the current so I could approach the areas fairly quietly.
Any company where you were fishing?
I saw some boats, not that many. But I fished 15 miles of water.
Gimme a couple keys for you.
Sunglasses so I could see the fish as far away as possible. I use Wiley X Gravitys in blue mirror.
I also practiced daylight til dark, full bore, full tilt — 16-hour days. My batteries did really good. I use the Optima Blue Top, size 31.