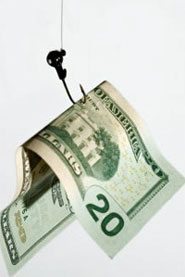 In Ann Arbor, MI the police caught a guy who was trying to steal money from a bank by using a hook and line. Uh, yep.
A short summary of this work o' genius, from here:
A 26-year-old Ypsilanti man was arrested this morning after Ann Arbor police responded to an alarm at a South State Street bank and found him hiding near a night deposit box that had fishing line hanging out of it, police said.
The alarm call from Michigan Commerce Bank came in at 4:16 a.m., and officers were on the scene within three minutes….
…it appeared he was trying to get money out of the night deposit box using the fishing line.
Two things to note:
> Reported back in May: "Ann Arbor police are investigating after a fishing line and hook were found in a night deposit box at a bank…."
> And this doozy: "It's unclear whether the incident is linked to several similar incidents in recent months…." You mean other wanna-be criminals also had this idea? Apparently yes! In South Carolina.