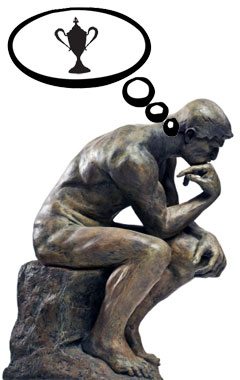 In a darn good winning pattern story on BassFan (flame on, Jonny Storm), Bassmaster Northern Open winner Nate Wellman had this to say:
"It's been a dream of mine since I was 8 or 9 years old to fish the Bassmasters. I wouldn't pass up the Elite Series for the world. I'll go broke if I have to, but you just can't not do it.

"It's where my heart is. I promised my dad at a young age – I said, 'Dad, you'll see me onstage at the Bassmasters before you die.' Now it's become a reality.
"I didn't dream about fishing the Forrest Wood Cup. I dreamed about the Classic. Everybody my age (27) and older, when we were getting started, we all had that same dream."
He's right – or, if not "all," lots of people have dreamed about being onstage at the Classic. We've all heard it many times and it fo' sho' makes sense since it's the oldest, bestest, biggest, etc.-est tournament in bass fishing. But Nate's statement begs the Q: Has anyone had that same dream about FLW's Forrest L. Wood Cup?
Have you? Are you younger or older than 27? Let us know below!