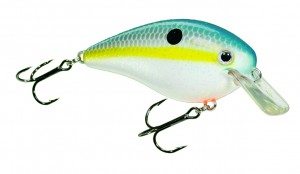 If you had to pick one bait or technique that's going to win the 2011 Classic, what would it be? Anglers will ply the fertile brackish waters from New Orleans to Venice with dozens of different lures and presentations, but every year one bait or style seems to outshine all the others. So what's it gonna' be this year?
Strike King has an article up with Classic competitor Mark Davis focusing on which baits he plans to have in his arsenal exactly one month from now. Of course all his selections are Strike King offerings, but we can still get an idea for what type of bite Davis is expecting based on his Top 5 baits.
Here's a look at Davis' picks:
1. Creature bait (Rodent)
2. Creature bait (Rage Hawg)
3. Spinnerbait (SK Tour Grade)
4. Shallow crank (1.5 KVD square-bill)
5. Finesse jig (Bitsy Flip)
That's three flipping baits and two moving baits. No surprise there. The Louisiana Delta has no shortage of grass and wood, so flipping is likely to be a dominant technique, especially if the field gets caught under bluebird skies behind a front and the Delta largemouth are pinned tight to cover. On the other hand, if the competitors get a couple days of wind and clouds, which is completely feasible in mid-February, this thing could turn into a spinnerbait fest in a hurry.
Another big factor to watch for is the rainfall along the Mississippi watershed, which, if you haven't looked, is a pretty freakin' big area. It can rain in Minnesota or Wisconsin and that frigid runoff will make it all the way down to Venice. The water temperature can easily fluctuate 10-15 degrees in either direction depending on when and where it rains throughout the month of February, which will play a big part in determining the dominant presentation most pros end up relying on to get their bites.
I'm going to go out on a limb and say this event will NOT be won in the grass. I believe the winner is going to amass most of his weight by cranking shallow roseau cane stumps. Katrina and Rita blew away thousands of acres of roseau cane patches, leaving only stumps of roots and stalks behind. Those little stumps harden and turn black, and they hold a lot of heat. I'm banking on a warming trend leading up to the event and I'm hoping a cold front starts making it's way down to New Orleans just as the competition kicks off. As the cold front approaches, this will pull some moisture and warm air off the Gulf of Mexico and make conditions ideal for mopping up some toads on a little square-bill.
Anybody else care to make a prediction of what the winning bait or pattern is going to be?