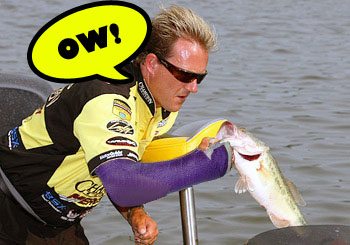 Holy hobbled anglers, Batman! If you haven't checked out this report on BassFan today about injuries in professional fishing, you should.
Take a peek at BassFan's plethora of pros they have on record as reporting injuries over the years. It's longer than Tiger Woods' list of… well, we won't go there. Granted, some are old sports injuries or complications from other aspects of life, but most can be linked directly to the rigors of tournament fishing.
George Jeane, Jr. – Rotator cuff, surgery
Brent Broderick – Hand ligaments
Rusty Salewske – Painful shoulder (baseball)
Bill Lowen – Back
Mark Tucker – Rotator cuff and bicep, surgery, also recently tore all hand ligaments on hookset, shoulder problems
Dustin Wilks – Elbow, Tommy John surgery
Michael Murphy – Ankle/knee (football)
Luke Clausen – Elbow, surgery
Bill Chapman – Back, missed entire tour season
Matt Herren – Broken tailbone
Mark Menendez – Skin cancer
Shaw Grigsby – Elbow
Mike Surman – Elbow
Bill Dance – Skin cancer
David Fritts – Struck by lightning in boat, likely cause of serious eye injury
Scott Suggs – Rotator cuff, elbow
Gerald Swindle – Back and shoulder (football, trade work),
Bernie Schultz – Neck
Jack Gadlage – Shoulder
Greg Pugh – Hernia
Mike Ward – Elbow and shoulder, surgery
Charlie Youngers – Back (surgery, bacterial infection complication)
Fred Roumbanis – Elbow
Zell Rowland – Back (surgery)
Ken Cook – Shoulder (from Lyme disease)
Robert Hamilton, Jr. – Shoulder/collarbone/rotator cuff (surgery)
Clark Wendlandt – Frozen shoulder (surgery), elbow
Mike Wurm – shoulder (surgery)
And keep in mind, these are just the guys that actually mentioned their injury issues on record. There's no telling how many other pros are suffering in silence.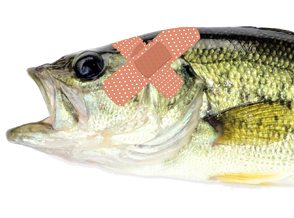 In case you missed it the first time, the link to the special report is below. This piece deserves a read:Â BassFan: Is There An Injury Crisis In Pro Fishing?
How about you? Do you have any nagging injuries related to the time you've spent on the front deck? I've shattered my ego too many times to count. Do they have surgery that can repair that?