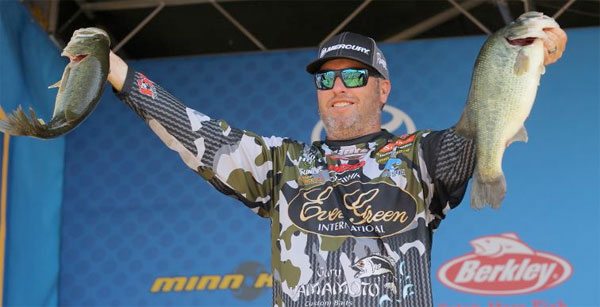 Brett "I only fish bladed jigs" Hite finished 3rd at last weekend's Bassmaster Elite Series event on Cayuga Lake, NY, and of course threw a bladed jig. But not only that. Here's what he did.
> "It was a power-finesse tournament for me. During practice I found all the fish I found winding an Evergreen Jackhammer bladed jig [a Japan-only bait], anywhere from 3/8- to 3/4-oz depending on how deep the grass was.
> "They were all largemouths in the north end. The bottom was in 10′ — lanes and points [in the grass].
> "As the tournament progressed it got hot, calm and sunny. I'd catch 'em on the bladed jig in the morning. Most of them I caught on the 3/4-oz Jackhammer (green pumpkin) with a 4" Yamamoto Zako trailer (green pumpkin). [The Zako is a new-for-ICAST bait. "Zako" apparently means "small fish" in Japanese. He also fished this bait combo at the Winyah Bay Elite where he finished 2nd.]
> "I cast out to the end of where the grass was, counted it down 3-5 seconds, then slow-rolled it. When I hit a piece of grass, I'd pop it out of there.
> "When it was calm and the sun was up, I'd switch to a wacky-rigged 6.5" Yamamoto Kut Tail Worm in watermelon candy with an O-ring on it and 3/32-oz Reins tungsten nail weight [in the fat end], with a 1/0 nose hook. I was casting it out and lifting it up off the bottom — I shook it when it hit a piece of structure like a rock.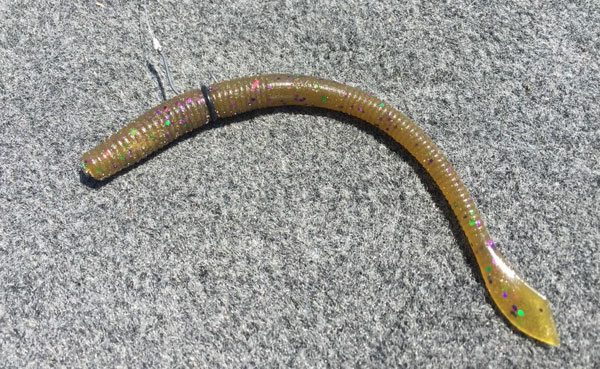 > "My best spot on days 1-3 I found with the Jackhammer. A big school came up so I knew there were a lot of fish. Come to find out there was a big open area in the grass with a rockpile. So I'd catch a couple on the jackhammer, trying different angles, then finesse-fish them.
> "Even during the middle of the day, if the wind would blow I could catch them on the Jackhammer.
> "I fished the Jackhammer on a 7′ 3" Evergreen Leopard heavy-action glass rod, Daiwa Tatula CT Type-R reel (6.3) and 20-lb Sunline FC Sniper.
> [Why an all-glass rod:] "You have to think of that bait as more like a crankbait. Fish have a tendency to eat it very aggressively. The biggest misconception is people look at a bladed jig and put it on a jig rod. You need to treat it more like a crankbait. You need something more forgiving. There's always a parabolic bend in the rod, so it doesn't allow slack in the line when you're fighting fish.
> "For the Kut Tail Worm I used a 7′ 1" Daiwa Steez AGS spinning rod (medium), Daiwa Exist 2500 reel and Sunline 16-lb braid to an 8-lb Sunline FC Sniper fluoro leader.
> [Why the Kut Tail worm over a Senko] "The Kut Tail is longer and skinnier, it has a little better action."