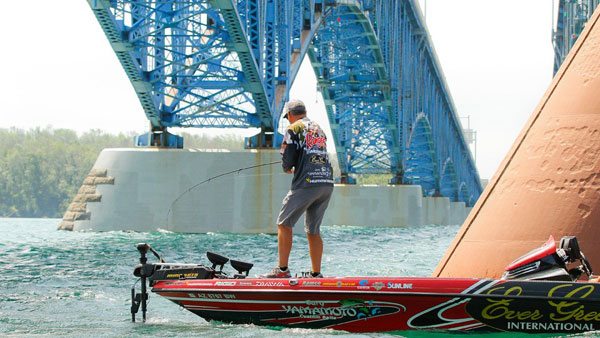 Like Kevin VanDam, Brett Hite also used prior river-current experience on the St. Clair and Detroit rivers to help him find the fish he needed last week.
> "When you have a river with a lot of current, the major places fish group up obviously are current breaks, whether natural or man-made. For me, with just a limited amount of practice, I focused on the man-made current breaks I could see.
> "You can fish structure out there and not find the right current breaks in even 1.5 days of practice. So to be able to drive down the river and find man-made current breaks — a bridge, barge ties, I found a couple shipwrecks, things of that sort…you could drive down the river, visually find those areas and see if there's fish on them.
> "That was my pattern for the limited amount of time we had. I thought it was the most efficient way to find fish."
How he fished
> "My major spot was a bridge…every piling was set up a little differently, and from day to day the fish were different on each piling too.
> "Where they dig [holes for] pilings out, they always stack the boulders there. The Humminbird 360 allowed me to make those real strategic casts to those spots instead of searching with my baits.
> "Reading the current coming off those pilings is almost like fly fishing…that seam where you have still water and real nervous water."
Fishing the dropshot
Brett caught all his fish on a dropshot rig.
> "It's just a great rig, especially in the current. You can control it, you can feel it real well, you can adjust the weight of the bait to the current.
> "Obviously the hookup and landing ratio with a dropshot is great compared to a tube. And anytime you have rocks and zebra mussels, the [dropshot] hook is above the bottom and not in contact with zebras as much so you break off much less.
> "The biggest key for me fishing like that — I learned it fishing the Columbia River, St. Clair and the Detroit River — is finding the right-weight dropshot weight. You want the dropshot to tick the bottom to flow along the bottom at the same speed as the current. If it's too heavy, it gets hung up. If it's too light, you don't get bottom contact. So it's kind of like trout fishing — you want the bait to flow at the same speed as the current or close to it, and still have bottom contact.
> "This time for me it was a 1/4-oz Reins tungsten dropshot weight. If I was closer to Erie where the current was a little stronger, I'd use 3/8-oz.
> "I caught all my bass on a 4" Yamamoto Shad Shape Worm in light green pumpkin candy with clear belly on the bottom [color 938]. Pretty much every kind of baitfish looks like that — it's a good all-around color. The leader was about 18″ with a #1 nose hook.

> "I used braid to fluorocarbon. The braid is brand new from Sunline. I tested it last year for Sunline, and literally went into their booth on Friday [the last day] at ICAST and said, 'By the way I'm robbing you guys — I'm stealing some of this TX1.'
> "The biggest thing is it's super-smooth. It almost feels like a nylon line. It casts really well, and you don't hear it in the guides. You can definitely see a considerably greater casting distance out of it.
> "I had some yellow TX1 spooled up and some green. In low-light conditions I really like the yellow so I can see it. Plus in current you can get a loop in your line, so it was really nice to see where the line was all the time.
> "I used 12-lb TX1 and a 6′ of 7-lb FC Sniper fluorocarbon for a leader.
> "As the sun got up I'd try to stay off the pilings a little [and make longer casts] because some of the pilings were in 10′ and the water was fairly clear there.
He fished the dropshot on a 7′ 1" medium Daiwa Steez rod, and a Daiwa Exist 2500 reel.
More
> "I had three opportunities to win this year and can't seem to close it out on the final day.
> "I had a spot I went to with 45 minutes left where I caught three, one was 3.5-lber and I caught one 10 seconds after the buzzer. I should have made that move a little earlier, but l had a good week and a solid performance. I just couldn't quite close it."