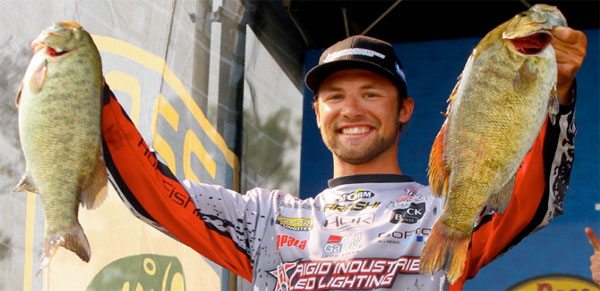 Brandon Palaniuk almost won the St. Clair Elite event. He was fishing the St. Clair River near Lake Huron, and said "the key to the area was the mix of current, with the main river current and a back eddy. The grass held a large number of baitfish that would get washed out into the main current."
He added (here), "Every time a ship would pass through the channel, it would literally suck the baitfish off the spot and create a feeding frenzy."
And: "The smallmouth would sit in the small depressions in the shell/gravel bar and feed on whatever came their way. Most bites came 24-30′ of water."
Here's what he drew to explain his pattern – seriously!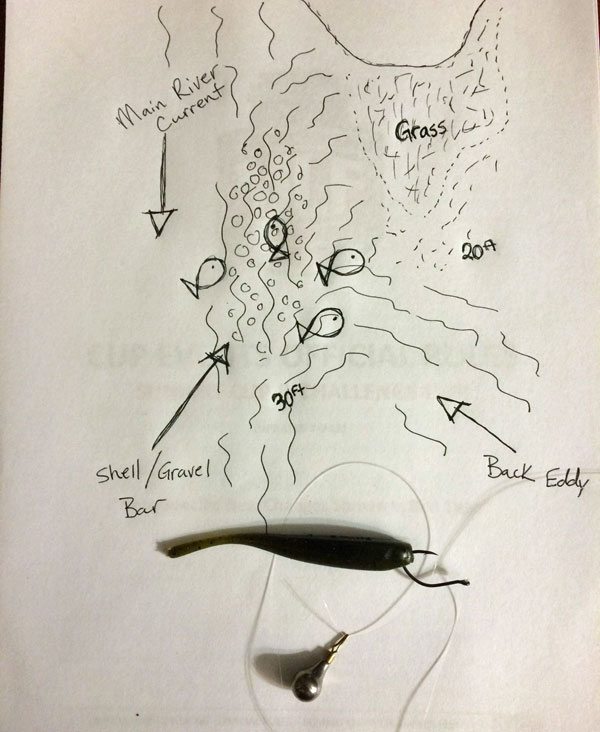 Bait and rig
Bait: 3″ Berkley PowerBait Twitchtail Minnow (green pumpkin) soaked it in Berkley Gulp Shad Marinade.
Hook: VMC #1 Drop Shot Hook.
Weight: 3/8oz EcoPro Tungsten Full Contact dropshot weight.
Rod: 6'10 ML Abu Garcia Fantasista Regista spinning.
Reel: Abu Garcia Revo MGX Spinning.
Line: 8-lb Berkley FireLine Crystal main line, and 8-lb Berkley Trilene 100% Fluorocarbon leader. Had about a 12″ leader between hook and weight.