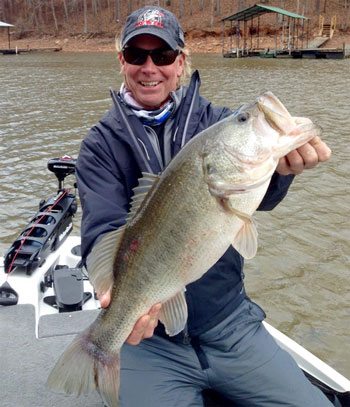 by Kevin Short
Some of you know me as Kevin Short. Some might know me as K-Pink. In 2006, I was one of the inaugural class of Bassmaster Elite Series Anglers. Before the Elite Series, I qualified and fished on the Bassmaster Tour. Before the Tour, I fished the Opens. Before the Opens, I fished EverStarts, BFL's, Redman's, Central Pro-Am's, Mr. Bass of Arkansas, Angler's Choice Team Tournaments, and anything else I could squeeze into a year. Won more than a few derbies at every level. Have enough wood from plaques to build a pretty big doghouse. I've been around a while. Done it. Seen it. T-Shirt has holes in it.
I am also THE original Bass Blogger. Well, that's a little bit of a stretch, as Randy Howell got a bit of a jump on me, but he didn't hang with it very long. Started that gig up in January of 2004 with the now defunct (I guess) FishFactory.com. Don't bother looking it up. It goes nowhere. You looked, didn't you? Did you think I was kidding? Nothing there.
When I began blogging in 2004, the presence of bass fishing on the innerwebz was pretty small. The Bass Fishing Home Page was a deal. Bassmaster.com was around but kind of weak. BassFan was just getting off the ground and had it going on. It was nothing like today when every swinging Harry with a flashy shirt and a handful of colored Crayons has a website, a Facebook Fan Page, a @BigHarryBassPro Twitter handle, a SnapChat account, Periscope poop, and every other form of social media known to man. Not that there's anything wrong with that.
Back in "tha' day" it was me and a very few other dudes who tried to hammer out some stuff on the keyboard to tell all the wannabes what it was really like "to be" a pro basser dude. Now we have every other Elite and FLW Tour guy dictating out words to ghost writers who polish, shine and edit their thoughts out into the nice little columns you see today. Sure some of the anglers pen their own words, but the majority of them rely on a "real" writer to transfer their words to pixels. Not that there's anything wrong with that.
I tell all that to get to the fact that what you read here was typed by the fingers of K-Pink. The thoughts came out of K-Pink's twisted brain cavity. At times, I may have an agenda, axe to grind, soapbox to stand on, rant to relate, lesson to teach, or it might be just plain drivel, but it will be my thoughts turned into pixels on your device by my hands. That has to be worth something.
Some days you may agree with what you read, some days you won't. Some days you might learn something, other days you might think I'm just cray-cray. I'm good with that.
I walked away from the Elite Series last year. Despite what you might have read or heard, K-Pink did not "retire." "Retire" may have been the politically correct term used to mean I walked, but that word isn't in my vocabulary. I'm working my butt off to sell Bass Cat and Yar-Craft Boats on the international scene. I walked away from the Elites. Had enough. Couldn't see it going anywhere or getting any bigger or better than it is right now.
Fishing at that level requires 110% commitment. That's one of the reasons we see few of the guys who have "real" jobs and play at being Billy Bass Pro compete at a high level for very long. It's hard to maintain that 110% commitment if you're also working a steady job.
No one on Planet Earth wants Pro Bass Fishing to be HUGE more than I do. After chasing the dream for 12 seasons, I just couldn't see the current format being the path to bigger or better in any way. That makes me very sad.
Buckle up and hold on, because in the coming weeks and months we'll explore a little bit of the behind the smoke and mirrors scene, and perhaps dispel some of the myths and misconceptions, that surround Pro Bassin'. K-Pink rides again. Yippe ki yay.