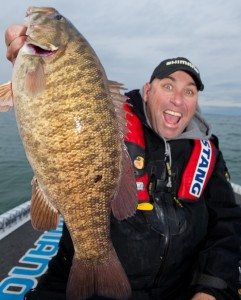 If the mind-numbingly intelligent conversation featured in part 1 of our Not Your Average Q&A installment with Dave Mercer left you blowing drool bubbles and grunting like a caveman, hold on to your MENSA card because we're blowing the doors off this taco stand in part 2!
No underwear talk this time. Promise!
Bass Parade: You have the opportunity to take one person – current, historical, fictional or otherwise, out fishing. Who do you take? Why?

Dave: This is an easy question. I've actually been asked this one before, and I've never changed my answer.
I want to take Adam Sandler fishing. The reason I want to take him out is because Adam Sandler puts all his buddies in his movies. So I figure if I can get him out on the lake and show him a good time I might have a shot at landing a role in his next flick.
I don't want to be a big hollywood actor. I just want that bit part that Adam has in all his movies. Like the crazy Cajun guy in Waterboy—I could do that. Do you think Adam Sandler reads Bass Parade? Maybe if he sees this my dream will come true!

The 'great' minds behind Bass Parade have theorized that if an individual were to drink a glass of water from KVD's livewell, he would grow wings, rainbows would shoot from his bum and his crankbaits would be eternally tuned. Any comment? And could you please test this theory for us next year?
I have no idea if that's exactly what would happen, but I'm sure something magical would take place, and I'm 100-percent willing to try it. Trust me, KVD's livewell water is far from the most impoure thing I've ever drank. You remember when Angelina Jolie and Billy Bob Thornton wore those vials of each other's blood around their necks? I'm gonna' try that with KVD's fish water.
I'm all for drinking the water—bathing in it—whatever. I'll be the test pilot. I bet if I rubbed it on my head it'd make my hair grow back!
Dave Mercer is to bass fishing as ________ is to ________?
You know when you're eating popcorn and you get that little kernel stuck in your teeth? That's me, because I'm not going away. Some people really don't mind that little kernel, but other people are really bothered by it and just want to get rid of it. Bass fishing is stuck with me, whether you like it or not.
Finish this sentence: The thing I'm most looking forward to about being Bassmaster emcee is…
Hanging out with my heroes. I'm a fan of the anglers just like the people reading this are. Last year I was sitting at the Bassmaster Classic eating popcorn, cheering and loving every minute of it. The way I see it is that I basically just got upgraded to the best seat in the house.
I still really can't believe I'm going to get paid to hang out with my heroes. This whole thing is really just starting to sink in. I keep thinking that someone at B.A.S.S. is going to wake up one morning and be like, "Oh my gosh, what were we thinking letting this nut job on stage?" I don't think it'll truly be real to me until I'm up there at the Classic. At that point it'll all hit me and I'll probably just freeze and won't be able to say a word. It should make for great television. You have to love that your first day on the job is live in front of 20,000 people and being broadcast to 100 million homes on ESPN. No pressure.
Finish this sentence: The thing I'm most nervous/anxious/NOT looking forward to about being Bassmaster emcee is…
Same thing—hanging out with my heroes. That makes me a little nervous.
Oh, and bad breath. These guys spend a lot of time on the water and they don't always take the time to stop and drink a lot. So by the time they come up there and see me they might have a pretty good funk working. I'm hoping between now and the Classic that B.A.S.S. sells a sponsorship to Tic Tac, Certs or somebody like that. Maybe that'll be my thing. A lot of emcees and announcers have something they're known for. I think my deal is I'll have a jar of mints right up there next to the scales. But that one may come back to bite me when I get in a dude's face and he reaches into that jar and hands me a mint. That'll go over well.

Open mic time—anything else you want people to know?
I really just want to thank everybody for their support. I'm amazed at the positive feedback. When Bass Parade ran the piece with the emcee announcement—the amount of people that posted on there how happy they were—it blows me away. I want to thank all those ladies and gents that sent me E-mails and commented on your site, and all the chats and forums. The positive comments really mean a lot to me, and I definitely read that stuff.
And I know a couple people hate me. That motivates me, too. If you don't like me send me your address. I'd like to send you a Christmas card or something. I might just stop by and give you a great big hug.
_____
[This part 2 of a 2-part Q&A. If you missed part 1 you can check it out, here.]