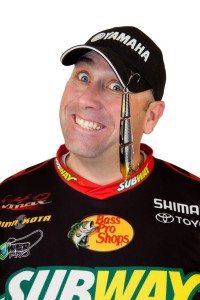 If you're anything like me, you woke up this morning and said to yourself: "You know, I'd really like to read an article on a bass fishing website that talks about Trip Weldon's underwear." I've got you covered, bro!
In this edition of Not Your Average Q&A, bass fishing's latest overnight sensation [you'll have to read the full piece to get that joke] Dave Mercer talks about his new gig as B.A.S.S. emcee, says the word 'crotchless' and somehow manages to create a mental image of Gerald Swindle in tights. If that sounds like the kind of stuff your starving little cranium just can't live without, read on. 
BassParade: First off, congrats on the new gig! You bring a blend of humor, wit and fishing insight to the table as B.A.S.S. emcee. What do you think B.A.S.S. fans will enjoy most about having you on the mic in 2011?
Dave: At first it'll probably be all of my disastrous mishaps. People love to watch somebody fail. And there's a good chance I'll walk on the stage and fall flat on my face. That should be entertaining for everyone.
After that I hope they enjoy my passion and love for the sport. (Emceeing the Classic) has been a lifelong dream for me. I'll joke and have fun, but what I hope will really shine through is my passion for fishing and the guys that compete.
All great announcers—in any sport—are great because they're passionate about what they're doing. That's why Mark Zona has been so great in his role with B.A.S.S. He loves this sport the same way I do and he can identify with the anglers. I've fished my share of tournaments.
So when a guy has a tough day, I've been there. And when you see a guy watch the scales lock in and lift that trophy over his head, you realize what that means to him. When you're on stage you can really see how important winning and losing is to these guys. Sometimes it's hard not to stop what you're doing and say, 'Dude! Give me a hug!' I hope that passion and connection I have with the anglers and the sport will really shine through.
Okay, enough of the serious stuff. Here's an off-the-wall question for ya'. If the Bassmaster Elite Series were the WWE, and all the anglers competed in a no-holds-barred cage match, who would be the last man standing?
I think the obvious choice here is going to be a guy like Denny Brauer. He's a big dude. Or maybe a Peter T type. Those guys would probably go a long way, but the guys you expect to win never do. That's how wrestling works.
Then you've got a guy like Kevin VanDam. He's the mastermind. He's gonna have a game plan. He'll probably hang out on the turnbuckle for most of the match and let the rest of the guys duke it out for a while. Then, just when you've forgotten that he's still in the match, he'll come flying in with some crazy move and everybody will go nuts. But KVD is too level-headed to win a cage match, so I can't pick him.
My pick to win the whole rumble is Gerald Swindle because that dude is crazy. He's got a George 'The Animal' Steele kind of vibe going on. Swindle is the guy that pulls something out of his tights late in the match. You can never bet against that guy.
You've made a career out of cracking jokes and talking about fishing. How awesome is that? Can you give the rest of us schmucks the blueprint for making it happen?
I've always believed that no matter what your passion is, if you work hard enough and don't take no for an answer, you'll end making it happen at some point. Since I was a kid I've always wanted to fish for a living. Some guys want to be ballplayers, but (fishing) was it for me. I used to tell guidance counselors I wanted to fish and they would just laugh at me. They didn't take me seriously.
My mom used to bring me listings out of the paper of all the local businesses that were hiring. She didn't really care what I did or how much money I made, she just wanted a guaranteed career for me, and fishing doesn't really offer that.
There really is no blueprint for making this kind of stuff happen. The best advice I can give is to be yourself. I think if you pay attention to people who start being themselves and allowing their own character to come out, you'll notice that's when positive things start to happen for them.
When I started on television I was the world's worst Al Lindner impersonator. I grew up watching guys like him and I thought that was how I had to act. Once I started being myself—which is a grown man with the attention span of a gerbil and maturity of a 12-year-old—that's when things started to fall into place. Not everyone will always get it or even like it, but I think being genuine and real will work out much better for you in the long run. It definitely has for me.
Oh, and the other thing is you need to do is starve for about 10 years and be broke out of your mind so that when you finally catch a break people can tell you you're an overnight success in an industry you've been a part of for 15 years.
We heard that all new employees at B.A.S.S. have to iron Trip Weldon's tighty-whities as a hazing ritual. How stoked are you about that?
I'm not sure Trip would want that to happen. I'm not much of an ironer, so they may be crotchless undies after I'm done with them, and I'm not sure Trip is into that sort of thing.
I would wear Trip's undies on my head for a week if that's what it took to keep this job. If that's the worst hazing I have to endure to land my dream job—bring on the underwear!
What's the one thing you wish more people knew or understood about you?
That I'm not crazy, maybe? This is a tough question, because I think for the most part people know all there is to know about me and my personality. Whether you see me onstage or at the boat ramp—that's me, dude!
I'm a Sagittarius. I enjoy long walks on the beach and slow, wet kisses with bass. That's about it.
We all know that in addition to having the gift of gab, you're a pretty talented angler. What superpower would you like to have when fishing? (The powers of Aquaman are not an acceptable answer!)
I'd want the ability to look into the future. You have no idea how many boat ramps I've left kicking stones saying, 'Why didn't I do this instead of that?' If I could see the future and know at the beginning of the day what I've usually figured out by the end of the day, I'd be a lot better off.
The other thing, and this is a pretty obvious one, would be the ability to look at things and make them bigger. I'm really good at catching small fish, so if I could turn stare at my 5-inchers and morph them into 5-pounders, I'd be the guy toting a sack of fish onto stage at the Classic instead of the guy holding a microphone.
Speaking of fishing versus emceeing the Classic, I have a funny story about that. When I got news about the new gig from B.A.S.S. I brought my daughter up to my office and was showing her footage from the Classic on YouTube. I told her, 'You see that guy up there on the stage with the microphone? I'm gonna' do that! This has been a dream of daddy's for a long time, and now I get to live that dream.'
She was happy. It was all hugs and kisses and stuff. But then she stops and says, 'It'd be way cooler if you were the guy in the boat.'
_____
[This part 1 of a 2-part Q&A. Look for the second part of this piece later in the week. In part 2, Dave tells us why he wants to take Adam Sandler fishing and talks about the magical powers of the water in KVD's livewell.]