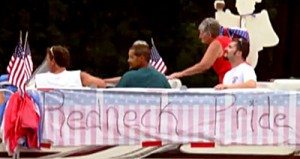 Those pesky Asian carp have been in the headlines a lot lately. Last week we saw the appointment of America's first "carp czar", and then there was the genesis of the giggle-inducing "Until You Beat Them, Eat Them" campaign courtesy of Michigan congressman Dave Camp.
Carp czar? Congressman? We don't need no stinkin' politicians! We've got something better: REDNECKS!

Have you heard of the Redneck Fishing Tournament? Every year a bunch of self-proclaimed 'rednecks' get together at the Mississippi River in Bath, Illinois to commit carpocide. No rods. No reels. No bait. All you need to compete in this derby is a boat that floats (barely) and a net…and maybe a helmet if you'd like to keep your teeth. A 12 pack of suds won't hurt your style points, either.
Mr. Carp Czar, take note. Before you go off spending millions on solutions to this carp catastrophe that probably won't work, why don't you take a trip to Bath and see how these bonafide bubbas are dealing with the issue.