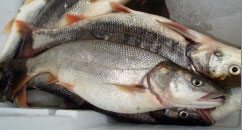 Who needs tournaments when you've got northern pikeminnows? The lovely state of Oregon – lovely, yes, but its state G&F department considers black bass a nuisance fish – provides a lucrative bounty on northern pikeminnows, the fish formerly known as northern squawfish, name changed because using the word "squaw" was politically incorrect – seriously.
The reason bass and pikeminnows are given the thumbs down by Oregon is because everything up thataway revolves around saving salmon. That's where the money is, that's where the federal regs are, that's just the way the wind blows out west.
Anyhow, a recent piece in the Oregon Statesman-Journal profiled Nikolay Zaremskiy of Gresham, OR,  a regular-Joe angler who has earned $51,000 in pikeminnow bounties so far – THIS YEAR. Some quotes from the article:
> At his current pace, Zaremskiy stands to beat the record of nearly $58,000 for individual single-season earnings.
> So far this season, 115,878 pikeminnow have been caught, with more than $650,000 in payoffs to anglers. [As Peter Griffin would say, "Holy crap!"]
> "People are making serious money with this program," said Russell Porter, the senior program manager for the Pacific States Marine Fisheries Commission. "And they're having fun fishing while helping save young salmon."
If that wasn't awesome enough, the more fish you catch, the more each one is worth:
> Anglers get paid $4 to $8 for northern pikeminnow 9 inches and longer caught in the lower Columbia from the mouth to Priest Rapids Dam, and on the Snake from the mouth to Hells Canyon Dam. The first 100 earn $4 each; the next 300 are worth $5 each; and, after 400 fish are caught and turned in, they are worth $8 each.
How to learn more:
> Click here to go to what appears to be the official program website.