3rd: Cliff Prince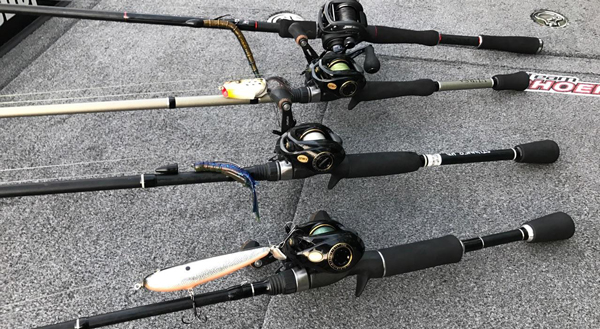 From the bottom:
> Greenfish Tackle TAT (black back/silver side/orange belly) — "fished on top" [no way, lol].
> 4″ Bass Assassin Pure Craw (Delta neon, NOT Delta melon) — for sight-fishing.
> Fitzgerald T- Fitz Poppin Frog (white) — "bounced on top of matted pads."
> Bass Assassin Fat Job (gold rush) — "flipped in hardline."
4th: Fletch Shryock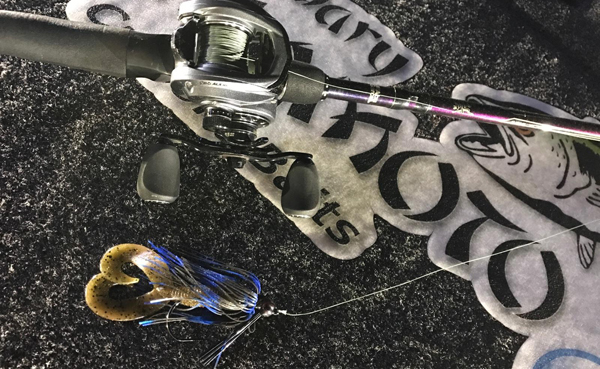 > 17 of my 20 were on the swim jig. Swam the jig around in a spawning area [1-3′ deep] and tried to target spots they were possibly bedding. Although I believe the majority I caught were not spawning, I think a few were and I was able to get them to react to the jig.
> 3/8-oz black/blue unnamed swim jig, 5″ Yamamoto Double Tail Grub (gp), 50-lb test Spiderwire Stealth braid, Abu Revo ALX (8.0:1), Abu Ike 7′ 4″ mh rod.
Asked him why he mixed the jig and trailer colors — if he was color blind because of all that orange he wears (lol). Said: "I just like mixing black/blue and green pumpkin. Just a preference that probably doesn't make much difference."
5th: Greg Hackney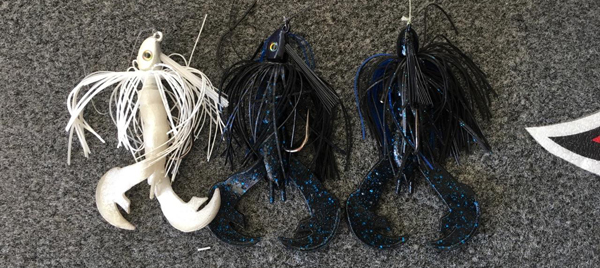 > L to R: 3/8-oz Hack Attack Heavy Cover Swim Jig (white) with matching Rage Lobster, same jig/trailer but in black/blue, 3/4-oz Hack Attack Heavy Cover Flipping Jig (b/b) with matching Rage Lobster.
> "I swam the jig in lily pad fields in 2′ of water with a hard bottom — they were spawning there. With the flipping jig I targeted isolated cattail and tule patches in and around these spawning areas — post-spawn and prespawn females seemed to be setting up in them."