Here you go, the 2nd-4th patterns from last weekend's Bassmaster Elite Series tournament on Lake Cherokee, TN:
2nd: Jamie Hartman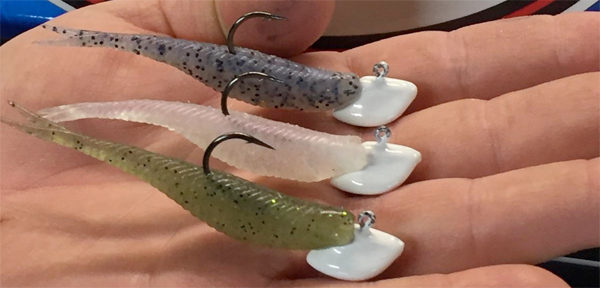 > "The head is a custom head from i1baits [a walleye bait company!] called the Hart-Attak Jighead. It was 3/8-oz paired with the Damiki Armor Shad in 3 different colors: pro blue, pro purple and baby bass.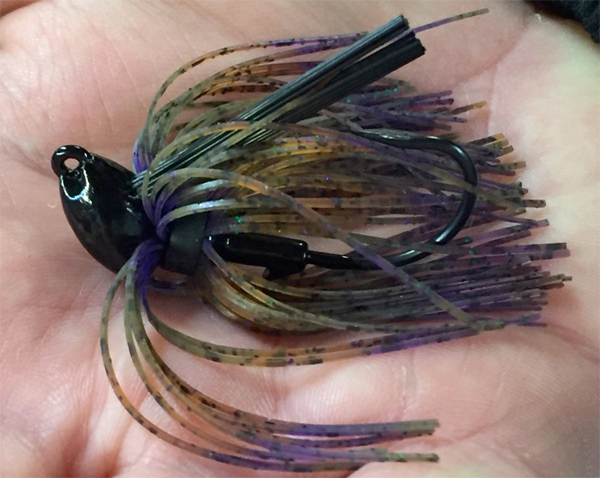 > "For the largemouth I used a prototype 3/8-oz Riot Baits Minima Jig (summer craw) with a prototype Riot trailer called the Tantrum (Missouri craw)."
> Smallmouth pattern was mid-lake offshore wintering holes using the i1baits jighead with the Armor Shad in 25-35′. I was targeting drops off the sides of humps that had deep depressions.
> Largemouth pattern was [fishing the jig on] a 45-degree bluff-type bank with the river channel running up against it.
3rd: Jesse Wiggins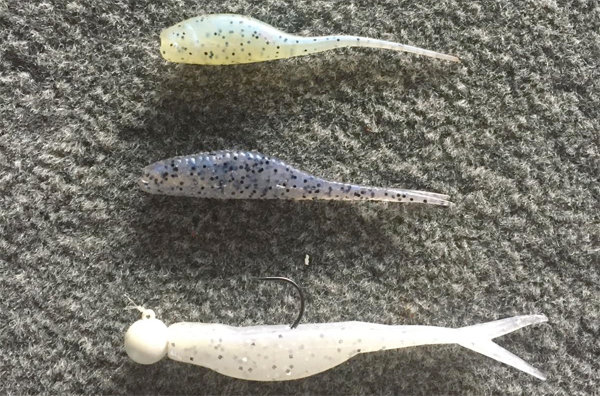 > From top: Jenko Fishing Big T (dirty milk), Damiki Armor Shad in (pro blue black flake), 3/8-oz tungsten ball-head jig with a Zoom Super Fluke Jr (blue pearl silver)
> All his fish were caught in a 20-25′ "depression."
4th: Seth Feider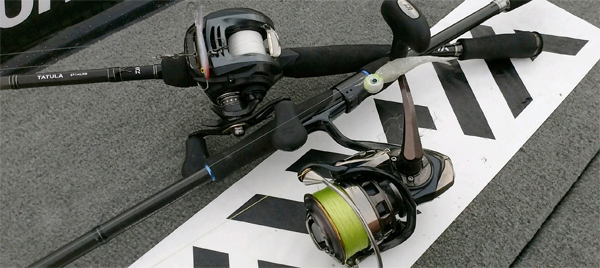 > #4 Rapala Flat Jig (anchovy), 10-lb Sufix 832 braid to 8-lb Sufix fluoro, 6′ 9″ Tatula rod (med light) with Steez SV reel.
> 3/8-oz VMC Mooneye Jig, 3″ minnow-style bait, 10-lb Sufix 832 to 6-lb Sufix fluoro, 7′ Steez AGS rod (medium) with Steez 3012 reel.
> "I shook the snot out of 'em on deep rocks in 25-40′."
5th: Paul Mueller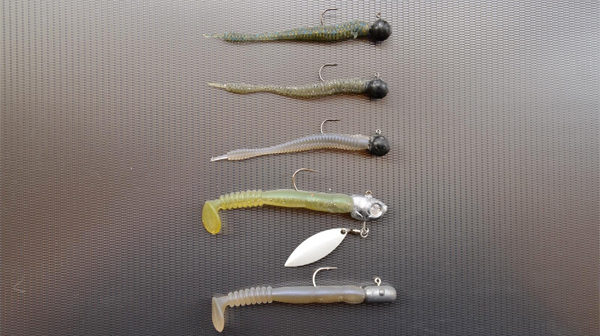 Top to bottom that's:
> 3.5″ Reins Bubbling Shaker (bluegill) on a 3/8-oz Do-It Molds round-head jig.
> Same bait/jighead (baitfish).
> Same bait/jighead (natural pro blue).
> 3.25″ Reins Fat Rockvibe Shad (gizzard Shad) on 5/8 oz Do-It herring head underspin with white painted blade.
> 3.25″ Reins Fat Rockvibe Shad (natural pro blue) on 1/2-oz Do-It tube and tail jighead.
> "I'd fish the underspin when it was windy and when it was low-light conditions…the regular swimbait when it got brighter or the wind laid down.
> "Sometimes they would be moving around a lot and it would be easier to back off the fish and fan-cast the swimbait. The swimbait had to be on the bottom and slow-rolled to get bit.
> "With the 3.5" Bubbling Shaker, I would video-game fish with my Garmin Panoptix. Sometimes I would catch fish that were 30-40′ to the side or in front of the boat and I could watch them eat the bait using Panoptix. I would always keep the bait above the fish, which was key to triggering them. I would constantly shake it, keeping it in one place above them and trying to pull the fish off the bottom. When they would start to come up to it, I would…make the bait seem like it was trying to get away. This would usually trigger them to get more aggressive.
> "If there were a few fish together they would be competitive, but if it was an isolated fish I'd have to slow down and be more methodical in how I worked the fish.
> "The Garmin electronics were key to this whole deal. I targeted 25-35′ mid-lake to the southern end. Most areas had a spawning area within sight — flats and areas that they were staging to move to the bank.
> "There had to be bait in the area for them to be there too. They were feeding on threadfin shad that were the same size as the baits that I was using. "